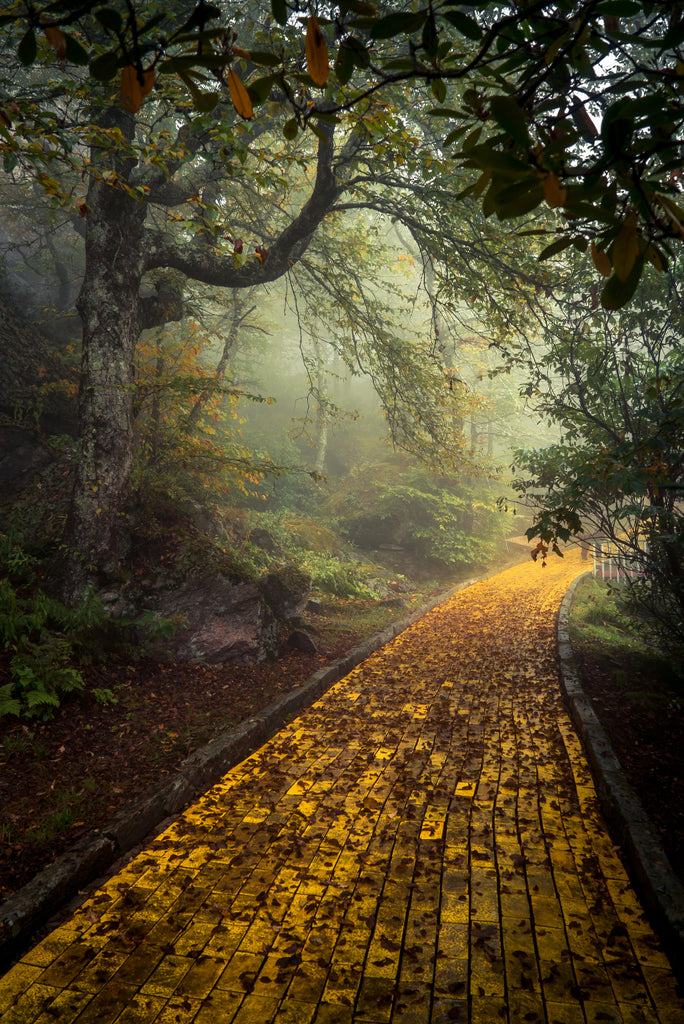 Johnny Joo
Follow the Yellow Brick No II
This product is out of stock
We had been on the road for hours heading north bound from Savannah, Georgia, and night had already fallen as we entered the quiet town of Boone, North Carolina. Not quite ready to settle down yet, we continued to travel along the dark and winding road. At this point, the area was so dark that we were unable to see any of the mountainous terrain surrounding us as we wound up and down through the Blue Ridge Mountains. The Blue Ridge Mountains are a smaller province within the larger Appalachian Mountains range. As luck would have it, rain then began to fall – and not just a small drizzle; it's never just a small drizzle when you have absolutely no clue where you're going. Of course, the adventure would not have been complete without the trouble of not being able to see nearly 2 feet in front of me through the downpour. Thankfully, we eventually made it to a proper resting place in town, and would soon be headed towards our next destination – The Land of Oz.


Read about the Land of Oz Here
Archival pigment print 
Open edition


Sizes available:
9"x13"
Paper: Arctic Polar Luster
11.8 mil / 290 gsm
Archival Lucia Pro Pigment Inks
Signed
$25.00

_______________________________________

11"x17"
Paper: Palo Duro SoftGloss Rag
16.5 mil / 310 gsm
Archival Lucia Pro Pigment Inks
Signed
$40.00

________________________________________

17"x25"
Paper: Big Bend Baryta
12.2 mil / 310 gsm
Archival Lucia Pro Pigment Inks
Signed
$80.00


Material:
Each print is made on archival museum-grade paper with Lucia Pro inks.
Prints are mailed in a thick mailing tube to protect from any bending or creasing in the mailing process. All prints will be signed.
You can find a full portfolio at www.johnnyjoo.com or see other prints available here
If you have any questions, please email
info@oddworldstudio.com

---
More from this collection